Tenerife
Host
Tenerife, Canary Islands
Airport Transfers in Tenerife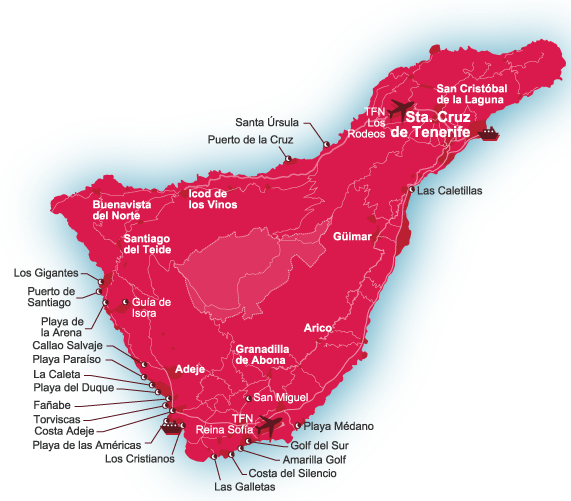 We offer you comfortable transfers by luxury Mercedes Benz limousines from and to both Tenerife Reina Sofia (TFS) and Tenerife Los Rodeos (TFN) airports in Tenerife to all the destinations specified on the map.
Our Airport VIP Transfers service is available ONLY FOR OUR CUSTOMERS WHO BOOKED TOURS AND ACTIVITIES AT OUR WEBSITE FOR AT LEAST 500 EUR (a tour, boat trip, excursion, etc) and dedicated for those who appreciate comfort and the best level of service.
Our driver will wait you at arrivals in the Airport
with tickets and will take you by luxury
limousine directly to the door of your
hotel in Tenerife and vice versa.
GET
100%
FREE
RETURN
TRANSFER
You will get FREE-OF-CHARGE return transfer from the hotel to Airport, as a gift from Tenerife Host, if you will book and pay our Excursions, Tours or Trips in Tenerife for a total sum of 1500,- EUR or more!
How to Book your Airport Transfer in Tenerife?
To order your transfer, please, use the contact form or Email and provide us following information:
- Your Name and Surname
- Arriving/Departure Time
- Airport code (TFS or TFN)
- Flight nr.
- Your address in Tenerife in the case of transfer to the airport.
- Contact mobile phone nr.
- E-mail address for sending Confirmation.
* Before your flight to Tenerife you maybe need to park your own car by the airport? Compare UK airport parking prices with Parkhero and save on London Stansted Parking, Manchester, Bristol and more!
** We don't offer a taxi service - Pick Up and Dropp Off to the airport is available only, if you book our tours, trips, excursions, etc.
Price List - Airport Transfers in Tenerife:
Airport VIP Transfer - prices in EUR for one way per car (up to 4 persons).
TFS - Tenerife South (Sofia Reina) Airport.
TFN - Tenerife North (Los Rodeos) Airport.
Departure - Destination (and vice versa) ----------------------------------------------------------- One way Transfer Price
TFS – Amarilla Golf – 18.00€
TFS – Buenavista del Norte – 90.00€
TFS – Callao Salvaje – 31.00€
TFS – Costa Adeje – 30.00€
TFS – Costa del Silencio – 30.00€
TFS – Fanabe – 30.00€
TFS – Garachico – 90.00€
TFS – Golf del Sur – 20.00€
TFS – Guia de Isora – 40.00€€
TFS – La Caleta – 35.00€
TFS – La Orotava – 85.00€
TFS – Las Caletillas – 45.00€
TFS – Las Galletas – 30.00€
TFS – Los Cristianos – 30.00€
TFS – Los Gigantes – 45.00€
TFS – Palm Mar – 30.00€
TFS – Playa de La Arena – 45.00€
TFS – Playa de Las Americas – 30.00€
TFS – Playa del Duque – 30.00€
TFS – Playa Medano – 20.00€
TFS – Playa Paraiso – 35.00€
TFS – Puerto de La Cruz – 85.00€
TFS – Puerto de Santiago – 45.00€
TFS – San Cristobal de La Laguna – 60.00€
TFS – San Miguel – 20.00€
TFS – Santa Cruz de Tenerife – 60.00€
TFS – Santa Ursula – 80.00€
TFS – Torviscas – 30.00€
TFN – Amarilla Golf – 65.00€
TFN – Buenavista del Norte – 52.00€
TFN – Callao Salvaje – 82.00€
TFN – Costa Adeje – 75.00€
TFN – Costa del Silencio – 67.00€
TFN – Fanabe – 74.00€
TFN – Garachico – 45.00€
TFN – Golf del Sur – 60.00€
TFN – Guia de Isora – 90.00€
TFN – La Caleta – 78.00€
TFN – La Orotava – Not Available
TFN – Las Caletillas – Not Available
TFN – Las Galletas – 74.00€
TFN – Los Cristianos – 70.00€
TFN – Los Gigantes – 94.00€
TFN – Palm Mar – 70.00€
TFN – Playa de La Arena – 75.00€
TFN – Playa de Las Americas – 72.00€
TFN – Playa del Duque – 74.00€
TFN – Playa Medano – 58.00€
TFN – Playa Paraiso – 82.00€
TFN – Puerto de La Cruz – Not Available
TFN – Puerto de Santiago – 94.00€
TFN – San Cristobal de La Laguna – Not Available
TFN – San Miguel – 68.00€
TFN – Santa Cruz de Tenerife – Not Available
TFN – Santa Ursula – Not Available
TFN – Torviscas – 70.00€