Tenerife
Host
Tenerife, Canary Islands
Booking Deposit Payment & Electronic Ticket Information
Pay the Booking Deposit Invoice to confirm your booking
In 99% of cases (except entry tickets to Siam Park, Loro Parque, Aqualand, etc, where full payment is required) , after you click "Book Now",  you are redirected from the tour page to the booking platform TripsPoint.com where you can extremely easily make online booking paying just required Booking Deposit. You will get your tour Voucher very fast after the booking was made. We will be very thankful, if you trust and believe, the booking process is wise and everything is made for your comfort at TripsPoint.com. You may have questions, it's natural and okay, but we will very appreciate, if you will book first and ask your questions after getting your tour Voucher – in 99.99% cases all your questions will simply disappear after you've got your tour Voucher. Trust and beliefe to each other will save your and our time. You can check all possible reviews of Tenerife Host over the Internet to be sure – we put a Customer always on the 1st place and do everything possible to make your holiday more colorful and stressless.
In a case of a park entry tickets booking, in answer to your booking message after we check availability or requested tour or activity you receive our Invoice for required Booking Deposit.
HOW TO PAY THE BOOKING DEPOSIT?
After you've got Invoice you can pay the Booking Deposit in one of two possible ways:
1. With your credit or debit card paying online the payment request we've sent you in separate email.
2. With your PayPal account sending the amount through our PayPal page
After receiving your Booking Deposit payment we will send you your e-Ticket with all important details as the Meeting Point, Start Time, etc. If the meeting point is located outside of your hotel, we will also provide you with a map, showing your way to the meeting point. This tour ticket is also your booking confirmation.
Please, pay the Booking Deposit on time – if the Booking Deposit is not paid on time, the booking is automatically cancelled.
Once required Booking Deposit is paid, your booking is confirmed and you will receive your tour Ticket to print or save with your phone.
Below you can see an example ticket.
Together with your electronic ticket you will receive Information where to find Pick-Up point and a map how to get there.
Pick-Up Point
Collecting point where your Tour starts. We provide you with detailed explanation and the map highlighting way from your hotel or apartament to the Pick-Up point.
Please, be always on time at your collecting point.

Unique Reference Nr
This is unique Reference Nr given by the tour organizer, so by this nr you will always can find you on the list of the tour participants.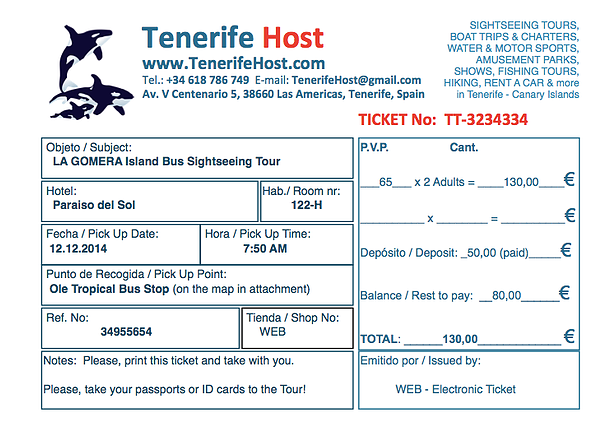 Ticket Nr
This nr is unique Ticket Nr and if you have any questions about your realized booking, please, provide us the Ticket Nr as the reference nr.

Booking Deposit
Sum of paid booking deposit – realized partial payment.

Balance
The remaining balance to pay. You will pay it on the day of your tour directly to a guide or the tour provider.

Sometimes, in the case, if you've booked a ticket to an amusement Park or a Show, you have to pay total sum as a deposit and there's only paper tickets. In this case your paper tickets will be ready to pick up at our office or, if you wish, we will deliver paper tickets right to your hotel in any part of Costa Adeje, Las Americas or Los Cristianos.
Home > Booking Deposit Invoice